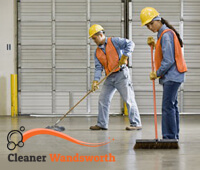 There are plenty of places which need to be cleaned after any refurbishment, renovation or building projects, or any new constructions. If you want to achieve optimal results with the builders cleaning which you need, rely on our local cleaning company to provide it.
Our staff will gather and dispose of all construction waste, making your property perfectly clean and liveable again. The cleaning will be done with the help of advanced machines, the proper instruments and solvents. Use our fast and reliable builders cleaning services that we provide in Wandsworth SW18 and your rooms and outdoor areas will be hygienic and spotless in no time.
After Builders Cleaning
Prices
After Builders Cleaning

£

20/h
Extensive Builders Cleaning in Wandsworth, London
Whatever your requirements and needs are, we have the manpower, equipment and tools to fulfil them. Our company offers flexible after builders cleaning services which guarantee:
Removed and cleared markings
Wiped and mopped floors
Washed and perfectly clean bathroom and kitchen tiles, sinks and surfaces
Wiped and rid of paint splatters and grime walls, doors and windows
Removed leftovers from building materials
Trustworthy Builders Cleaning in Wandsworth, SW18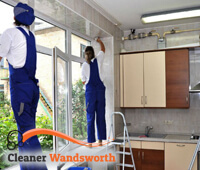 The after builders cleaning which we offer is perfect for sanitising your property after its renovation or decoration project. The cleaning staff in our company will arrive supplied with the necessary instruments, machines and cleaning products for work.
Get in touch with our local cleaning agency and we will carry out the after builders cleaning you need and our company, headquartered in Wandsworth SW18 will provide it at a fair price. We work seven days a week and carry out effective cleaning of domestic and commercial estates which have been repaired, decorated, renovated or their structure has been changed.
After Builders Cleaning Services at Cleaners Wandsworth
At Cleaner Wandsworth, we specialise in complete after builders cleaning in Wandsworth SW18. Your house requires a thorough cleaning after any building or remodelling work to be able to show off its new look in the best way possible Our skilled local cleaners will handle all post-construction clean-up tasks, ensuring that your area is immaculate, organised, dust-free, and ready for your arrival.
Our After Builders Cleaning Process:
Initial Assessment: We will start by carefully inspecting the entire property and determining the best cleaning approach that is most suitable for the situation.
Debris Removal: We will begin by collecting and removing all debris, construction waste and others.
Dust and Dirt Removal: We will carefully remove all dust, grime and pains splatters.
Deep Cleaning of Surfaces: All surfaces, walls, floors and appliances will be thoroughly deep cleaned, wiped down and disinfected.
Floor Cleaning: We will vacuum clean, sweep and mop al floors, both hard floors and carpeted ones.
Final Inspection: We will carefully inspect the entire property in order to ensure that all tasks have been completed.
Making Your Newly Constructed or Renovated Spaces Shine in Wandsworth SW18
We can save you the time-consuming and tiresome cleaning work by professionally performing it, using the latest industrial grade equipment. Call us, use our booking form or online chat to specify your demands and reserve the after builders cleaning you need in Wandsworth SW18 and you will be able to move in the rooms and use them as soon as we are done with the cleaning.
Why Choose Our After Builders Cleaning in Wandsworth?
Specialized Cleaning: We are familiar with al standards and requirements for this type of cleaning. We will achieve exceptional results.
Comprehensive Coverage: We will perform all tasks included in the service, from dusting to stain removal and disinfection.
Advanced Equipment: We will use some of the best, most powerful cleaning solutions and techniques to achieve the high-quality result you expect us to deliver.
Safety and Compliance: We stick to all regulations and carefully perform each task to ensure that your property is in pristine condition.
Post-construction Cleaning, Tailored to Your Needs:
Every building project is unique, as are your cleaning requirements. We provide tailored cleaning solutions to meet the individual needs of your home, whether it is a new construction, an expansion, or simply a refurbishment project.
Frequently Asked Questions
How soon after the builders leave can you clean?
You can schedule your appointment as soon as you know the clean-up builder team is done with the job.
Do you dispose of construction waste?
Yes, we will collect and dispose of all cleaning materials and waste as part of the cleaning project.
Are your team members insured and trained for this type of work?
Yes, all cleaning experts on our team are licensed and ensured, you have nothing to worry about.
Can you remove paint or plaster stains?
Yes, we will scrub and remove all paint and plaster splatters and stains from all surfaces in the property.
Book Your After Builders Cleaning Today!
With Cleaner Wandsworth, you have the opportunity to transform your freshly built or remodelled dirty and messy area into a clean, organised and comfortable home. Contact us today for a free quote and let us handle your Wandsworth post-construction clean-up. To arrange your cleaning, please reach out to our local cleaning agency (our call centres are open 7 days a week) or fill out our online form.